Cape Ann

Stockholm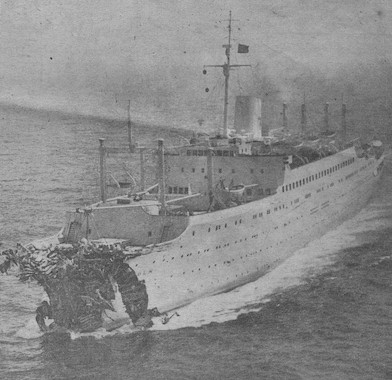 The Stockholm limps toward New York
11:30 am Evergreen: DE 531 WILL TRANSFER 31 SURVIVORS OF ANDREA DORIA TO OWASCO. WILL TRANSPORT TO NEW YORK WHILE ESCORTING STOCKHOLM. HAVE SEARCHED DEBRIS. NO BODIES. TWO LIFEBOATS ADRIFT. TWO OVERTURNED. WILL ATTEMPT TO RETRIEVE. IF SUCCESSFUL DESTROY. LEGARE ESCORTING STOCKHOLM UPON COMPLETE TRANSFER OF SURVIVORS.
Due to her damage, the Stockholm would not arrive in New York until the next morning. The passengers on the Stockholm were wonderful, sharing their clothing and their stateroom baths with the survivors. With one more night at sea the survivors ate dinner and gathered in the carpeted ballroom for some sleep. Using lifejackets as pillows the survivors made themselves as comfortable as possible while they awaited their New York arrival. Others were given food and blankets and slept that night on the deck with their life jackets tied to their wrists.
Flanked by two Coast Guard cutters, the crippled ship traveled slowly back to New York.
| | |
| --- | --- |
| AP Photo | Close up of the Stockholm bow. |
| Photo: AP | Andrea Doria crew members aboard the Ile de France. |